Consulting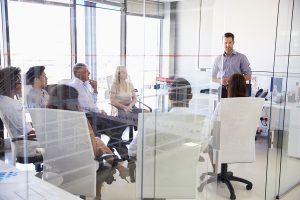 The consultants that you engage with to guide you through how to best apply Dynamics NAV for your business are probably the most important people. They are the ones that will listen to your business requirements, understand and absorb how your company operates and translate that into how Dynamics NAV best can be applied to each of the processes. This requires experienced consultants with industry knowledge.
Our consultants have between 10 to 15 years' experience with implementing and supporting Dynamics NAV. Naviona focuses primarily on manufacturing and distribution companies where operations and inventory management are in focus. So when you hire consultants from us you can rest assure that you get experience people that can guide you to a great solution.
The consulting services we offer includes business process optimizations, training and data migration.
Business Process Optimization
Business process optimizations focuses on improving company's performance by managing and optimizing the business processes that are carried out in Dynamics NAV. A lot of the times it is about finding the best way of working with the application, and determining who is doing what in what order. The result is better managed and more streamlined processes where unnecessary tasks and data entries are eliminated. This is especially important in today's competitive world, and you do want to make sure that you get the most out of your Dynamics NAV investment.
Related to optimizing a process is also to adopt a 'best practice'. There are over 100.000 companies using Dynamics NAV and working with the application the way it was designed to be used and the way others are using it is in a lot of cases the key to success (especially within the warehouse and manufacturing areas where we sometimes see users struggling with cumbersome workarounds because the application was not used the way it is intended to be used).
Our goal is always to apply Dynamics NAV according to 'best practices' and to use the application as it was designed to be used and apply customizations where it adds values to the business. We have over the years designed a lot of different tailored solutions within Dynamics NAV that have added tons of value to businesses and our consultants knows how do design solutions that works in the real life.
Training
Part of the consulting role is to train users and inspire them to take ownership in their role in the application. We provide both standard classroom training and tailored one on one training. The trainings can be done at your location or remote through a GoToMeeting application where the screens can be shared between the students and the trainer. On-site trainings are the most efficient at least initially before everybody knows each other's way of speaking and skill levels.
We also provide training to other partners, we believe that sharing our experience with others is a gain for the industry and are happy to train partners even though they are theoretically our competitors.
Data Migrations
Part of the consultant role when implementing Dynamics NAV is to migrate or update data in Dynamics NAV. It could be master data like Customers, Vendors, Items, Production BOMs, etc. or it could be transactional data like Open Accounts Receivables, Inventory Levels, Open Orders, etc.
This is nothing new for us and we have repeatable processes that consists of Excel templates, XMLPorts and data configurations for migrating the typical data into Dynamics NAV. For completely new implementations we also offer a template company configurations that have number series, post codes, country codes, setup tables, etc. already initiated ready to be used.
Contact us if you want more information about the services and solutions we can provide.
We are always happy to help with anything related to Microsoft Dynamics NAV!