Manufacturing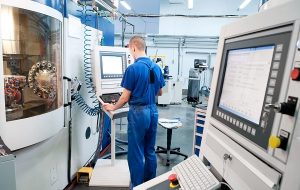 Manufacturing is one of the strengths of Microsoft Dynamics NAV, there are today thousands of manufacturing companies using Dynamics NAV to control and plan their daily operations. One of the key benefits with Dynamics NAV is the option to use partner provided add-on solutions that are tailored towards different industries, this together with the ease of which customizations can be done makes it unbeatable for manufacturing companies with unique requirements.
We have a strong focus on Manufacturing. With consultants having more than 15 years' experience with manufacturing implementations using Dynamics NAV there is not much we haven't done before. The manufacturing solution that we implement when the standard Dynamics NAV functionality is not enough is a solution called Advanced Manufacturing Package (AMP) from Cosmo Consult in Germany. This solution is built into Dynamics NAV and provides additional functionality for both discrete and process manufacturing companies. It is a solution that have been used and improved since 1996 and have over 500 installations worldwide.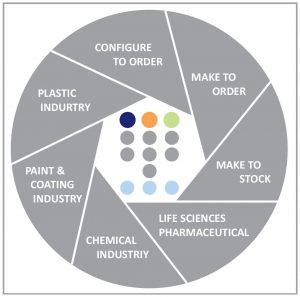 AMP from Cosmo Consult provides an industry-based approach for:
Discrete Manufacturing
Configure to order
Make to order
Make to stock
Project Service Providers
Process Manufacturing
Life Sciences and Pharmaceutical Industry
Chemical Industry
Paint and Coating Industry
Plastic Industry
Below are the manufacturing capabilities of the solutions the we provide where the discrete and process manufacturing capabilities comes from the Cosmo Consult solutions (expand them to read more).
Basic Manufacturing Capabilities
Production Bill of Materials
Create bills of materials and calculate standard costs. Required for the configuration of all other Manufacturing modules.
Production Orders
Create and manage production orders, and post consumption and output to the production orders. After you have created a production order, you can calculate net requirements based on that production order. The Production Orders module includes a manual supply planning tool as an alternative to automatic planning. The Order Planning window provides the visibility and tools you need to manually plan for demand from sales lines and then to create different types of supply orders directly.
Agile Manufacturing Capabilities
Agile Manufacturing
This module enables you to run the Agile Manufacturing, Supply Planning, and Capacity Planning modules.
Version Management
Create and manage different versions of the manufacturing bill of materials and routings. You must purchase the Basic Capacity Planning module before you can set up multiple versions of routings.
Supply Planning Capabilities
Basic Supply Planning
Plan material requirements based on demand with support for master production scheduling and materials requirements planning.
Basic Supply Planning includes:
Automatic production orders and purchase orders.
Action messages for fast and easy balancing of supply and demand.
Support for bucket-less and bucketed material requirements planning.
The Setup for items with their own reordering policy, including registration of whether they are manufactured by or purchased from a third party.
Demand Forecasting
Manage demand forecasting based on items. Input demand (sales) forecasts for products and components in a more convenient way (daily, monthly, quarterly). This data allows the system to plan and create production and purchase orders taking into consideration the demand forecast together with the level of available inventory and parameters of requirement planning.
Capacity Planning Capabilities
Basic Capacity Planning
Add capacities (work centers) to the manufacturing process. Set up routings and use these routings on production orders and in material requirements planning. View loads and the task list for the capacities.
Finite Loading
Manage finite loading of capacity-constraint resources. Taking capacity constraints into account so that no more work is assigned to a work center than the capacities can be expected to execute during a given time period. This is a simple tool without any optimization. Used with the Order Promising module, Finite Loading also enables the system to calculate capable-to-promise (CTP).
Machine Centers
Add machine centers as capacities to the manufacturing process. Machine centers are designed to help you manage capacity of a single machine/producing resource. With machine centers, you can plan/manage capacity on several levels: on a more detailed level for machine centers and on a consolidated level for work centers. Machine centers allow users to store more default information about manufacturing processes, such as setup time or default scrap percentage.
Discrete Manufacturing Capabilities
Checklist System (cc|configure to order)
Checklists in cc|configure to order provide a standardized handling of orders and are assigned to items. During the handling of a sales order or construction order, the checklists serve as the templates of the order specification. Thereby the assumed options and rules are defaulted.
The checklists consist of questions and answers that can be captured in separate templates as master data. Dependence between questions and answers are defined with formulas and rules, so that only plausible answers to a question can be captured.
Dynamic Bills of Material (cc|configure to order)
The Dynamic Master BOM is the second element of the configuration feature of cc|configure to order. The Master BOMs are opened "dynamically" if they are used for the automatic generation of BOMs relating to orders (Document BOM). In addition, within the BOM lines, formulas are entered.
Usually checklists and Dynamic Master BOMs are used together for a configuration. The information entered in the checklist is stored as variables, which are then used for formula evaluation within the Dynamic Master BOM.
Document Bill of Material (cc|configure to order)
In cc|configure to order, item BOMs are referred to as Master BOMs. When creating a sales document, the Master BOM can be copied to the sales lines. At this point, it is referred to as the "Document BOM" where the Master BOM is not referenced but rather the copied BOM. Together with the checklists, the Master BOMs form the configuration feature in cc|configure to order. However, the Master BOMs can also be used without the configuration feature.
Construction (cc|configure to order)
In cc|configure to order , a company's engineering or construction department can use the construction order for managing the BOM prior to manufacturing. Therefore, the construction order is considered the work order for the construction department. The design engineer has the option of modifying the document BOM created by sales or creating a new BOM. In this case, he or she has access to the checklist. The design engineer is also optionally supported by the PDM system
"ProfiDB" here.
Calculation Schemes (cc|calculation)
The cc|calculation module – built on Microsoft Dynamics NAV – offers a complete and flexible calculation option, from using different calculation schedules with charges to creating detail and lot size calculations for individual customers and customer groups.
The calculation module enables users to calculate item costs through the process of Sales Quotes, Sales Orders, Document BOMs, Construction Orders and Production Orders.
Flexible calculation with lot size comparison.
Calculation visibility protection by authorization level.
Line calculations on sales and production document lines.
Concurrent calculations to compare calculations from sales orders to finished productions orders.
Supply Material for Outsourced Production (cc|configure to order)
In contrast to standard Dynamics NAV, cc|configure to order offers the option of mapping subcontracting with supply of material. In this case, the items provided are predefined in the Master BOM. However, these settings can be changed during order handling.
Preliminary Orders for Long-Running Transactions (cc|configure to order)
This function enables, for example, critical parts or long-running items to be planned in advance. This function is based on the standard order promising functionality. The system calculates the earliest possible procurement date. If you accept the proposal,planning proposals are generated immediately which are connected with the document BOM line or the construction line via the reservation management of Dynamics NAV.
Service Processes (cc|configure to order)
Substituting items for a Service BOM uses standard Dynamics NAV service item component functionality. From a service order, when adding an item to the Service Item Worksheet, the system offers the following options:
Replace Component – the item should replace another component, which is registered in the service item components.
New Component – the item should be added into the service item components.
Ignore – the item should be ignored and not added to the Service BOM.
If, however, a service BOM is assigned to the service item, it is used for the replacement of components. Therefore, if the Replace Component option is selected, the Service BOM Line List page opens, where the user can select which component is to be replaced. If the New Component option is selected, the Service BOM Line List page opens, and the user can select the line where the new component is to be inserted. When the service order is posted, the component is exchanged or inserted in the Service BOM
Discontinued Items (cc|configure to order)
The discontinued item functionality provides the ability of steering the removal of old items/assembly units and their replacement by new components. Standard functionality in Dynamics NAV regulates the trigger of new items in manufacturing using a validity date in the production BOM. cc|configure to order offers an alternative method of handling discontinued items since a concrete date is not used (because of the depletion of remainder of stock, deadline shift and
so on).
On the Item Card, a part is defined as a discontinued item and one or more replacement items are assigned. A replacement date is entered, which indicates the earliest from which an exchange is possible.
If the status of a production order is changed to Released , the system will check if there are components marked as discontinued items. The user can check the inventory status of the discontinued item and the substitute item and then decide if he or she wants to replace the discontinued item.
Prototypes (cc|configure to order)
With the prototype creation function, it is possible to generate new items automatically and/or find already produced items based on their developments. Likewise, new variants of an item can be produced and/or regained.
The creation of a prototype is part of the configuration feature of cc|configure to order and is used when opening a Master BOM in the Document BOMs and the Construction Orders.
Item Description Catalog (cc|configure to order)
The Description Catalog is a function used to standardized item descriptions.
Process Manufacturing Capabilities
Sequence Planning (cc|process manufacturing)
Sequence Planning is a main function of cc|process manufacturing . The entire manufacturing process can be controlled in the Sequence Planning page, including the recognition of shortages of resources or materials, detailed planning and production order feedback.
Recipe Management (cc|process manufacturing)
The difference between Production BOMs and Recipes is:
Production BOM – Fixed quantity based on Unit of Measure
Recipe – Share percentage based on Recipe Weight (Net Weight) but a fixed quantity can also be used
Production Structure (cc|process manufacturing)
The Production Structure is used to manage recipes, routings, BOMs, test plans and comments in one page. A Production Structure can be set up for one item but used for other items as well.
The production variant allows users to create different production structures for one item depending on the following criteria:
Multiple locations, recipes and routings for one item
Variants
Quantity (minimum/maximum lot size)
Unit of Measure
Location
By-production (cc|process manufacturing)
In the by- production process, during the production of an item, other products are also manufactured (production conditioned output quantity).
Generally it is assumed that a by-production has a production process with different output quantities (items). If you produce Product A, you get also Product B, C and so on. The production quantity depends on the machine and the amount of the By-Product is dependent on the Base Unit of Measure of the main item.
Flexible Calculation (cc|calculation)
The cc|calculation module – built on Microsoft Dynamics NAV – offers a complete and flexible calculation option, from using different calculation schedules with charges to creating detail and lot size calculations for individual customers and customer groups.
The calculation module enables users to calculate item costs through the process of Sales Quotes, Sales Orders, Document BOMs, Construction Orders and Production Orders.
Flexible calculation with lot size comparison.
Calculation visibility protection by authorization level.
Line calculations on sales and production document lines.
Concurrent calculations to compare calculations from sales orders to finished productions orders.
Production Simulation (cc|process manufacturing)
This function allows users to simulate the production structure in multiple steps, starting from the item, from which this function is opened. The quantity of the simulation is determined by the batch size.
Quality Management (cc|quality management)
cc|quality management and cc|vendor rating manages all tests, test kits and test documentation during purchasing, manufacturing and end-control; ensuring quality information on all lots, including vendor management. In the course of globalization and the resulting internationalization of markets, companies have to adapt the quality of their products and services to the needs of customers on an ongoing basis in order to remain competitive.
The main component of quality management is reliable testing. Beginning with the receiving inspection and extending to the final testing during the production stages, the system follows materials management efforts every step of the way.
Since a robust supply chain is the central lever for improvements in competitiveness, cc|vendor rating should not go overlooked. It enables sustainable optimization for the procurement of materials and services. Vendors and individual suppliers alike are evaluated according to various criteria, making a high standard of quality achievable even at the areas situated upstream in the materials management process.
Additionally, the integrated cc|regulatory affairs module provides verification and change tracking of various tasks as well as field security.
The cc|quality management and cc|vendor rating modules include the following features:
Management of different test procedures
Customer and Vendor specific test plans
Test-kit testing
Optimization of testing (skip-lot)
Stability testing
Inventory Overview
Inventory List with item inventory by status
Error categorization
Regulatory affairs tracking and field security
Vendor management
Maintenance/Setup Jobs (cc|process manufacturing)
Due to production issues, it might be necessary to insert setup and maintenance jobs between production orders. cc|process manufacturing contains functions for the usage of maintenance and setup jobs.
Research and Development (cc|process manufacturing)
The Sample Shipment functionality provides the ability to ship samples to a customer before the finished item has been created in the system.
Development and laboratory structures are created without an item. In each of these production structures, samples of the product can be shipped to the customer with a sample shipping document without setting up an item.
Ingredients Management (cc|process manufacturing)
An ingredient in cc|process manufacturing is a substance inside a specified quantity of products, semi-finished products or raw materials. All matter consists of ingredients, but these are often intimately mixed together. Items are usually mixtures containing more than one ingredient, and these are defined in relative terms as quantities.
cc|process manufacturing takes into account the entire process, requiring ingredient monitoring on all aspects of manufacture, including the supply chain of both raw materials and products. The last step in production can be the analysis of batch lots in order to identify and quantify the actual quantities of ingredients.
Manufacturing Dimensions (cc|process manufacturing)
A manufacturing dimension is data that can be added to an item, item variant, sequence work center, or a production order line as a kind of marker so that the program can group and sort records with similar characteristics.
Each dimension can have an unlimited series of manufacturing dimension values that are sub-units of that manufacturing dimension. For example, a manufacturing dimension called Color can have colors called "Red", "Blue" and so on as sub-units. These colors are manufacturing dimension values.
Manufacturing dimensions and manufacturing dimension values are user-defined and unlimited, which means users can create manufacturing dimensions tailored to their company's needs and business processes.
Manufacturing dimension can be used to sort production order lines by user-defined information and priorities in the sequence planning.
Additionally, planning dimensions can be specified for sequence planning. There is a difference between planning and manufacturing dimensions:
Planning dimensions of a work center are the dimensions used for the priority planning of a work center. Here users can specify that they want to sort the orders for the work center in sequence planning by due date, then by color and so on.
Manufacturing dimensions are attributes of the work center. Users can enter a type, a location or anything else for a work center just as they would enter manufacturing dimensions for an item. This information is copied to a production order line that uses this work center. The manufacturing dimensions of the item are copied to the production order lines as well.
Storage Units (cc|process manufacturing)
When lots are received in different containers, the Storage Units concept allows users to track these containers using trading units and trading unit numbers:
Trading Units – This function handles different item unit of measures on inventory. Users can decide if they want a new item variant per item UOM or a new item per item UOM. This allows users to enter different production structures (and therefore different BOM and routings) for item UOMs because they can use the new variants or new items.
Trading Unit Numbers – This function provides a subdivision of the standard Lot Number. If users have multiple packages of one lot and they want to track each package using item tracking, they can use the trading unit number to separate them.
Contact us if you want more information about the services and solutions we can provide.
We are always happy to help with anything related to Microsoft Dynamics NAV!